What are top editors looking for in an investigative story?
In the lead up to our Global Investigations industry day, we'll be doing a series of spotlights on our special guest speakers. To wrap up this series, we're finishing strong by delving into our third session of the event, Meet the Editors.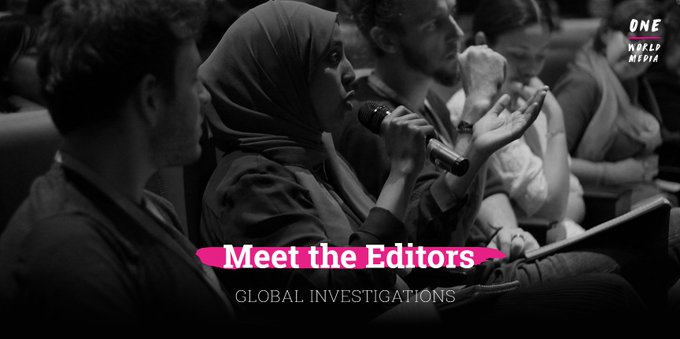 It can be difficult to know what editors look for in a story, who to pitch to and how to pitch to them.
For the final session of our industry day, a panel of top editors will detail their remit for commissioning investigative stories; from the optimum length to the specific form and content that they aim to produce for their diverse audiences. You will learn how they take a story from idea to conception and how to best pitch your ideas, as well as inside information on how major media outlets work with freelancers.
We have assembled a panel of top editors from The Sunday Times, The Telegraph, BBC's Panorama and Channel 4's Dispatches:
Jonathan Calvert is the longest serving editor of The Sunday Times' Insight team. Before that, Calvert used to work as the Investigations Editor at The Observer. He is best known for leading investigations that resonate worldwide, such as the FIFA files, and is the recipient of four British Press Awards, three Scoop of the Year awards, and one Journalist of the Year Award.
Louisa Compton is the Commissioning Editor of Channel 4's Dispatches. Previously, she was editor of Newsbeat on BBC Radio 1, as well as the editor of BBC Radio 5 live. Compton's exemplary career has led her to cover the London 2012 Olympics, as well as broadcasting from Zimbabwe and Guantanamo Bay.
Rachel Jupp is the editor of BBC's Panorama. Previously she worked as the Head of Home News at Channel 4, and as Newsnight's deputy editor.
Claire Newell is the Investigation Editor at The Telegraph and has been since 2012. Before this position, Newell worked as the Deputy Editor at The Sunday Times' Insight team. She has also worked with Channel 4's Dispatches, which led to her being nominated for a Royal Television Society Award. 
All four of the editors mentioned above will be speaking at the last session of our Global Investigations Industry Day, where they will be discussing what makes the best and most impactful investigative stories.
These are the people who decide which stories get made, so don't forget to come into this session with all your questions regarding investigative storytelling!
---
Join us at Channel 4 Headquarters, 26th November, for our Global Investigations Industry Day!