What is the future of investigative journalism?
In the lead up to our Global Investigations industry day, we'll be doing a series of spotlights on our special guest speakers. Today, we're kicking off with our first session of the event, Dorothy Byrne – In Conversation.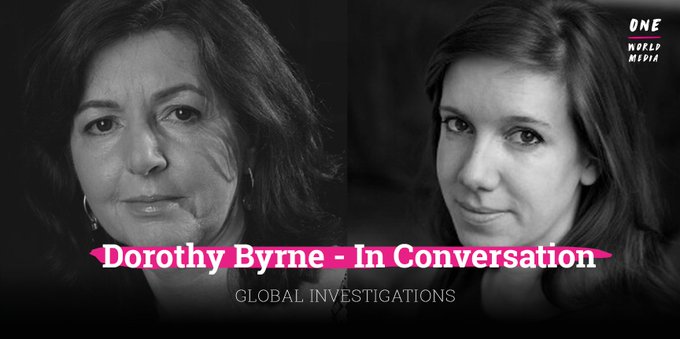 Dorothy Byrne, Head of News and Current Affairs at Channel 4, is renowned for her razor-sharp wit and brutal honesty. She is a voice to be reckoned with, and her recent MacTaggart lecture has been celebrated as a much needed wake up call for the broadcast industry.
Throughout her career, Byrne has been a champion of investigative journalism, and in her MacTaggart lecture, called for broadcasters to be braver in their commissions, "We have to stop being afraid of serious analysis authored by big brainy people. We have the ability and we have the airtime. Let's make some really clever and difficult programs."
Byrne is no stranger to "serious analysis" or "difficult programs" that hold power to account. She started her television career as both a producer and director on World In Action at Granada, moved to Channel 4 in 1998 as Commissioning Editor of Current Affairs and editor of Dispatches, and was appointed Head of News and Current Affairs in 2003. She is also a Fellow of The Royal Television Society, where she received the Outstanding Contribution Award at their Journalism Awards 2018. Most recently she has published a short book, Trust Me, I'm not a politician: A simple guide to saving democracy, a frank and entertaining attempt to separate the truth from the lies at a time of national crisis.
Byrne will be speaking at the first session of our Global Investigations Industry Day, where she will be discussing the future of investigative journalism with Maeve McClenaghan, investigative journalist and founder of the critically acclaimed podcast, The Tip Off.
McClenaghan has already garnered many awards and achievements throughout her career, including more than one Orwell Prize nomination. Alongside hosting duties at her podcast, 'The Tip Off', McClenaghan works at The Bureau of Investigative Journalism where she leads collaborative investigations on several issues such as: domestic violence refugees, politicians' use of Facebook "dark ads", and homeless deaths.
Remember to have your questions ready to dig into the role of serious analysis in our newsrooms and the next big ideas for global investigations!
---
Join us at Channel 4 Headquarters, 26th November, for our Global Investigations Industry Day!